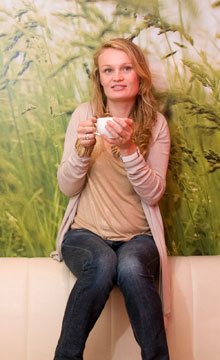 Blodau artists are an interior design, mural and mosaic service. We are based in Limerick, and work throughout Ireland and beyond.

In addition to helping with the design of your interiors, we specialize in sourcing the furniture, fittings.

We are equally happy creating contemporary interiors or period schemes and whatever the style, we ensure it will be sympathetic to the property.

We enjoy the collaboration of working with our clients and aim to produce a home that reflects your personality, creating maximum impact within budget constraints

We also work with commercial clients creating shops, cafés and office that reflect and work to their optimum.

Nina Blodau, a unique and notable designer, has distinguished herself as a creator and artist in the past years. Nina, who comes from a family of renowned artists and designers, has an extensive background and history in the trade, and has been influenced from an early age. She and her brother have taken on numerous commissions for murals, a recent one on the Dairmuid Galvin show 'I want a Garden,' proving themselves as respected and talented professionals.

Nina integrates her love of fine art into her own style of interior design, which is versatile and transitional, influenced by various surroundings and environments. When working with a client, she never imposes her own personal style, but combines their preferences and her expertise, creating an idealistic home or workplace. Her job as a designer involves helping others to discover their own style, to find what colours and schemes captivates them when creating their perfect space.
Nina supports and stands by her customer's decisions every step of the way, whether it is a little advice on changing colours in a single room or to a total refurbishment of your house.

Having took part in RTE 'Show-House' in 2007, her stunning designs made a lasting impression and were voted to win by the public.

Nina has gained valuable hands-on experience in a small, complete fit out company that dismantled, redesigned and reconstructed furniture. It was here she learnt not to rely on items that were readily available but to create distinctive styles, and to gain insight into the effects of light, colour and space. Nina is a step above others in her field, due her flowing artistic talent and the inspiring pieces and designs that result from it. Exploring all aspects of the world of design, she has hand painted furnishings, and also experimented with 'Trompe L'oeil' – a intricate art technique which involves images that trick the eye. If you need to redecorate a show house, apartment, business or home, Nina Blodau Interiors can create a work of art.